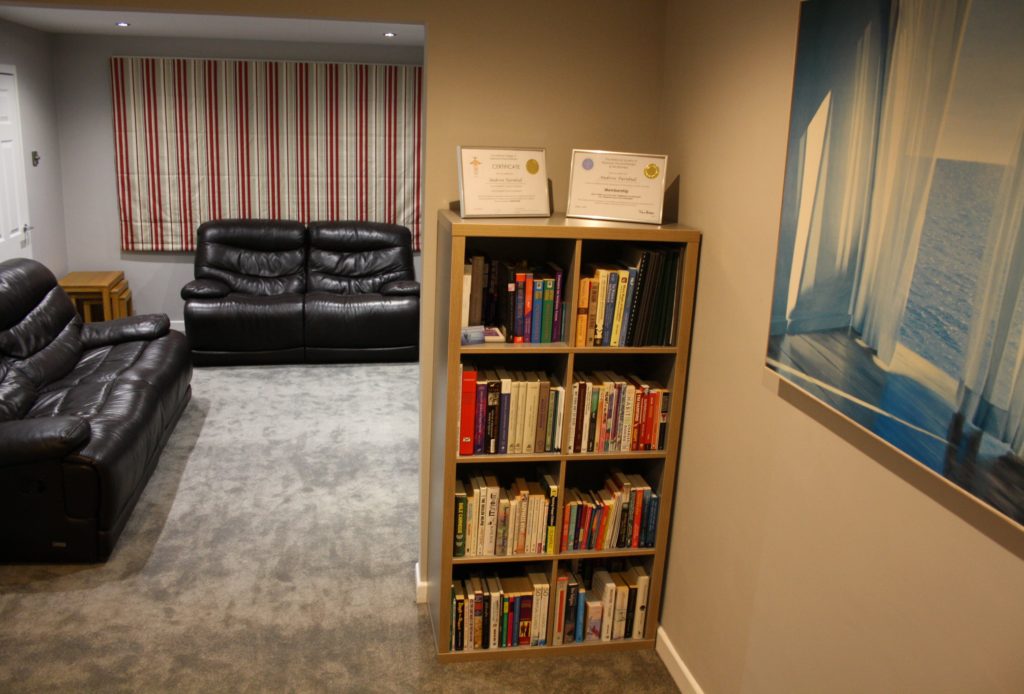 Qualified hypno-psychotherapist and coach at Cheadle Therapy:
Training, qualifications & experience
Since graduating in 1996 in a therapy-related degree, my qualifications, training and experience have been solely focused on therapy and education. Cheadle Therapy is the culmination of 30 years of understanding and guiding people to resolve a wide range of mental health issues. I combine hypnotherapy, a range of psychotherapeutic approaches and Neuro Linguistic Programming, in consultation with each individual client.
BA (Hons) Applied Human Communication. After graduation, I coached Sixth form students to resolve their personal, motivational or academic issues. As a result, my retention initiative significantly reduced the student drop-out rate, saving the College £1 million in funding between 1996-99.
Post Graduate Certificate in Education (PGCE) with Qualified Teacher Status for 11-18yr olds and adults: Social Sciences. I taught A Level Sociology, Psychology, Politics, Philosophy and a range of other courses (Criminology, Public Services) to Sixth Form students.  I also taught adults to gain the Health Studies and Sociology qualifications they required for University level study.
In addition to being a qualified therapist, I have been a Master Practitioner in Neuro Linguistic Programming (NLP) since 2000. I trained with ExcellenceforAll, the first NLP training offered in North-West England. They are certified by INLPTA, the International NLP Trainer's Association.
Certificate in Hypno-Psychotherapy (National College) with Distinction.
I have subsequently attended a series of further psychotherapy weekends at Diploma level after achieving the CHP(NC).
I practice as an Integrative, Solution-Focused therapist. This means I have studied several different branches of psychotherapy and hypnotherapy. I have been trained in Ericksonian Hypnotherapy, Hypno-Psychotherapy, Hypno-analysis, NLP, Solution-Focused Hypnotherapy and Time Line Therapy.  These are explained in the Hypnotherapy Directory.
Member of the National Society of Talking Therapies (MNSTT)
CNHC accredited and registered member. The Complementary & Natural Healthcare Council (CNHC) was set up by the government to protect the public by providing a UK register of professionally trained and fully insured healthcare professionals.
National Award:
The National College of Hypnosis and Psychotherapy is the senior training institute for hypno-psychotherapy in the UK. Each year it gives special awards for persons who have achieved excellence in the clinical, educational and/or professional sphere(s) in the profession:
Beilby Award Winner (2017): National College of Hypnosis & Psychotherapy.
Current projects:
In 2017, I was delighted to be invited to manage the various counselling projects as Interim Adult Services Manager at Beacon Counselling's new premises in Stockport and work with a great team of Counsellors, fellow managers and staff.
In 2020, I continue to research, understand and share with clients the latest scientific findings in health.  Modern lifestyles are causing more prolonged stress and anxiety.  This impacts both our mind and body as the two are connected in so many more ways than we initially thought.  Simply, stress impacts our ability to rest and digest food which have significant consequences for our energy levels, our mental wellbeing and physical health. Science can now clearly explain why so many people wake up tired and lethargic and offers numerous achievable solutions for proactive people to enjoy vibrant health.  Evidence-based therapy continues to inform and enlighten people from all walks of life.